Baby Yoda's Important Role on NASA-SpaceX Mission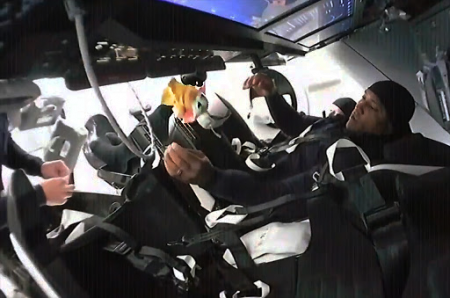 You've probably heard by now that a very special little plush toy likeness of The Child from The Mandalorian made an appearance on the recent successful joint mission to send astronauts to the International Space Station from U.S. soil. The toy figure was used as the Crew-1 flight team's "zero G indicator".
Any small object will do for this purpose, but using a cultural icon makes it more fun.
Earlier this year, the crew of Demo-2, Bob Behnken and Doug Hurley, used a plush dragon chosen by their sons to be their zero G indicator.
We're not sure which Baby Yoda toy the crew used in the latest mission, but we think it looks a lot like this popular 8" plush from Mattel. This plush toy is lightweight with a bean-filled base for stability. It's also hand-sized, making it the right size for the job as zero G indicator.
Back here on Earth, this is an incredibly highly rated Star Wars toy, with over 2100 ratings at time of this writing, and an overall score of 5/5 stars. This toy figure of The Child was first released in May 2020.
It's hard not to smile when you see this little guy, whether floating in space or perched on your bookshelf. He's also fun to place on your car's dashboard (where he hopefully won't be doing any zero G indicator work), next to your biggest brown mug in your kitchen, suspended from your ceiling zero-G-style, or sitting next to you on the couch as you watch the newest episode of The Mandalorian.
ISS Crew Answers Question About Baby Yoda
The crew talked about Baby Yoda briefly during a recent press conference. The entire video is interesting to watch, but you can skip to the Baby Yoda portion which starts at about 11:40.